I am a father, and I know what it feels like to carefully swaddle your newborn, gingerly strap her into a reverse-facing child seat carrier, and then drive her home for the first time. You can do all the advance safety planning in the world before she arrives, but until you're actually a parent, you've got no idea how fiercely you'll want to protect her to the very best of your ability.
That protective instinct extends to the choice you make in a family car, and if you're in a position to get a new midsize sedan, we've got a list of the six safest four-door models you can buy for around $30,000.
The six cars on this list each received a 5-star overall crash-test rating from the National Highway Traffic Safety Administration (NHTSA), and they each received a Top Safety Pick Plus rating from the Insurance Institute for Highway Safety (IIHS). That last one is important to note. A Top Safety Pick Plus rating means the car has passed the new small overlap frontal-impact crash test, which is designed to measure crash performance if the car hits a tree, a pole, or oncoming traffic on the left front corner of the vehicle.
Before we discuss the six safest family sedans for 2014, listed below in alphabetical order, keep in mind that this list is accurate as of mid-August 2014. The NHTSA and the IIHS conduct regular crash tests on the latest models, and continually update their data, so be sure to double-check those sources for any new additions.
2014 Ford Fusion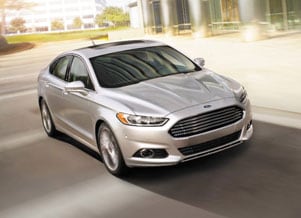 Ford redesigned the Fusion for the 2013 model year, transforming it into a sleek, modern sedan that looks like it should cost twice what it does. For 2014, the Fusion's turbocharged 1.6-liter EcoBoost 4-cylinder engine is, in most applications, replaced with a new turbocharged 1.5-liter EcoBoost 4-cylinder that makes about the same horsepower and torque, but gets better gas mileage.
In addition to this new engine, the 2014 Fusion is available with inflatable rear seat belts designed to limit injury in a collision. The top trim level, the Titanium, is offered with ventilated front seats and a heated steering wheel for the first time, and an Appearance Package for this model adds premium Brick Red leather. Keyless passive entry with push-button starting is offered for the Fusion SE model, and all Fusions can be dipped in new paint colors called Dark Side and Sunset.
Choose the Fusion SE, and you can equip the car with the new EcoBoost engine, navigation, all the safety upgrades, leather seats, and a nice set of 18-inch wheels for less than $30,000.
2014 Honda Accord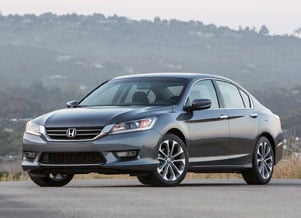 Redesigned for 2013, the Honda Accord lineup expands for 2014 with the addition of two new hybrid models, while the LX model gets new premium cloth seat upholstery.
The Accord Hybrid is equipped with the automaker's new Earth Dreams 2-mode hybrid system, which allows the car to operate at lower speeds and for short distances in an electric vehicle (EV) mode. The new Accord Plug-in Hybrid gives the driver three modes to choose from: EV, gas-electric hybrid, or gas-only. It takes less than three hours to charge the battery using a standard 120-volt household power outlet, and less than one hour using a 240-volt quick charger.
According to the EPA, the Accord Plug-in Hybrid is rated 115 MPGe, and once the battery is depleted, the car is expected to get 46 mpg in combined driving. Ratings are unavailable for the standard Accord Hybrid as this article is written.
If you want to stay below $30,000, choose the Accord EX-L with the 4-cylinder engine. It includes leather seats, a multi-angle reversing camera, a LaneWatch right-side blind spot monitoring system, a lane departure warning system, a forward collision warning system, and HondaLink services with Aha smartphone connectivity.
2014 Kia Optima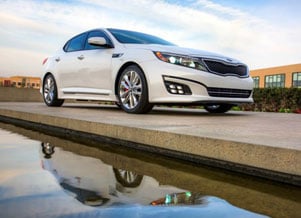 Now entering its fourth year since a complete redesign transformed Kia's bread-and-butter family sedan from a zero into a hero, the 2014 Optima receives a number of updates to help keep it competitive against the newer models on this list.
Highlights include subtle front and rear styling changes front and rear, new aluminum wheel designs, new instrumentation, and upgraded cabin trim. You might be more interested, however, in the next-generation Your Voice (UVO) infotainment system with eServices telematics technology, new navigation system with an 8-inch touchscreen, and available Blind Spot Detection system and rear parking assist sensors.
Operating with a budget of $30,000, choose the leather-lined Optima EX model and add most, if not all, of the options. You won't get the powerful turbocharged engine found in the SX, but you will maximize fuel economy, comfort, and technology within your budget.
2014 Nissan Altima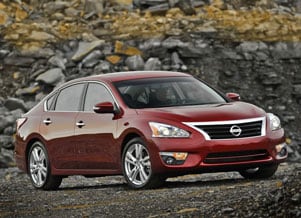 Following a complete redesign for the 2013 model year, the Nissan Altima is updated with NissanConnect Apps smartphone integration technology, and the car's option packages are revised to provide greater access to this feature and the Altima's available safety technologies. Remaining changes are minor in nature, amounting to slight cosmetic changes.
Family car buyers who select the Altima can choose between a 4-cylinder or a V-6 engine, the Altima 2.5 models equipped with the former and the Altima 3.5 models equipped with the latter. Trim designations are S, SV, and SL, and the Altima 2.5 is offered in a base level of specification that few dealers stock.
Because Nissan requires the purchase of a power sunroof to get the Altima's safety-related upgrades, you've gotta start with the mid-grade Altima 2.5 SV model if you want to stay under $30,000 while at the same time equipping the car with a blind spot warning system, a lane departure warning system, and a Moving Object Detection system. That means you won't be able to afford leather seats, a premium sound system, or any of the other upgrades included with the Altima 2.5 SL.
2014 Subaru Legacy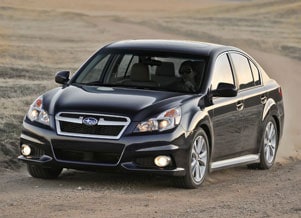 One year after a substantial mid-life refresh and the addition of a new Legacy Sport model to the lineup, Subaru expands availability of its EyeSight suite of safety technologies, adds Aha smartphone integration technology to models equipped with a navigation system, upgrades the car's available continuously variable transmission (CVT), and makes changes to available option packages.
Every Subaru Legacy is equipped with standard all-wheel drive, and buyers select between a 2.5-liter 4-cylinder and a 3.6-liter 6-cylinder engine. Both engines employ horizontally opposed pistons in what is called a "boxer"type of design. Aside from Subaru, only Porsche and Scion sell models with such an engine type, and the Scion FR-S model's engine is from Subaru.
When working with a budget of $30,000, buyers won't be able to combine the leather seats and additional upgrades offered for the 2.5i Limited model because Subaru requires the purchase of a power sunroof and a navigation system in order to equip the car with EyeSight. EyeSight is a group of safety features including adaptive cruise control, pre-collision braking, and a lane departure warning system. Therefore, choose the 2.5i Premium, upgrade the car with the package containing EyeSight, and spend the thousands in savings on accessories from the Subaru catalog.
2014 Volkswagen Passat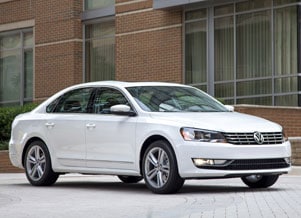 In its third year since a complete redesign, the Volkswagen Passat receives numerous changes. The most significant of them is that the standard 2.5-liter inline 5-cylinder engine is swapped out for a new turbocharged 1.8-liter 4-cylinder engine that makes just as much horsepower and more torque while getting better fuel economy. At first, this new engine is offered only with SEL trim, but by the end of the year the 2.5-liter engine will be gone.
Additionally, the Passat is offered with Volkswagen's new Car-Net connectivity system, and the lineup expands with the Wolfsburg special edition carrying over from 2013 and the arrival of a new Sport model. The popular Passat SE gains a standard reversing camera, and can be optioned with two-tone seats, keyless access with push-button ignition, and a new 18-inch aluminum wheel design.
The thing about the VW Passat is that you can't buy one with leather seats, a premium audio system, or a navigation system for less than $30,000, and Volkswagen doesn't offer much beyond a reversing camera in terms of safety technologies. That means our pick within a $30,000 budget is the Passat TDI SE with the fuel-efficient turbo-diesel engine and a power sunroof.